Thank you for visiting our The Long Island Sound Big Band website. 
We believe in the power of jazz to uplift, inspire, and create a sense of  intimacy between our listeners and performers. It is in this spirit that we invite you to connect with us and the  Long Island jazz society through our performances, concerts, educational programs, lectures and discussions. We hope these programs bring you comfort, joy and escape from day to day grind. 
 We are a 20 piece Big Band. Performing at events ranging from black tie to casual outdoor concerts to elegant dinner dances, fund raisers, we do it all! We are fun and stylish and truly everyone loves to perform! The members of the band range from 21 to 70 years of age and combined experiences range from playing with legendary big bands, jazz & RnB artists to performing on Broadway.
We will remind everyone of the elegant and awesome bands of the 1930's,40's and 50's and beyond. Our repertoire includes many of your favorite jazz and Big Band standards, Latin rhythms, waltzes, R&B, as well as some exciting contemporary arrangements that you're sure to enjoy. 
We have great female and male vocalists ready to sing your favorite songs. 
Check out our upcoming events and come see us at one of our free public performances. Please contact us if you have any questions about the band, or if interested in hiring us for your next event -- we'd love to hear from you! 
We are now a Nonprofit Big Band and are accepting donation and tax deductible contributions so we can continue to provide free services like outdoor concert, workshops, lectures and opportunities for ballroom dancing to the Long Island and Greater New York Communities.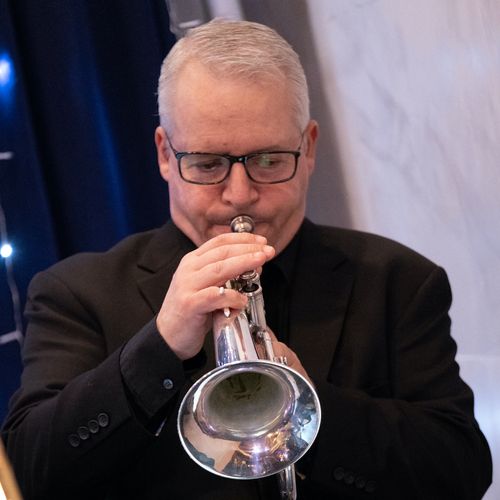 Vincent Cinquemani
Trumpet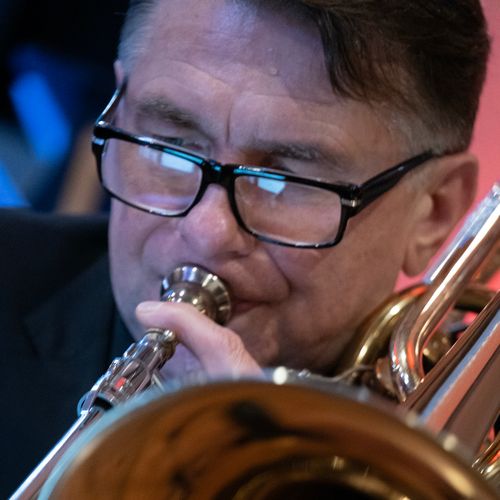 Petro Hykavyy
Bass Trombone
MISSION STATEMENT: 
Performing the Big Band sounds of yesterday, today, tomorrow and beyond to a variety of listeners. Young, middle and senior aged listeners make up our audience.  We entertain all genders and ethnicity. Through the power of music, we hope to give relief and an escape from the ever day grind and create an intimate experience between our listeners and performers 
We hope to empower and pass on the flame of America contribution to the world, Jazz music.  We aspire to inspire future generations of young musicians by holding clinics, perform free concerts to local Long Island communities. We Encourage opportunities for ballroom dancing. We strive to Educate non musicians in jazz history by holding public lectures and discussions to try to give a perspective of how the music has evolved through American history. 
For Bookings call
Andrew (516) 965 - 9517 email: andrew.grossbard87@gmail.com
Al (917) 921-3140 email: alcardillo@alcardillo.com
Please join our Facebook Fan Page